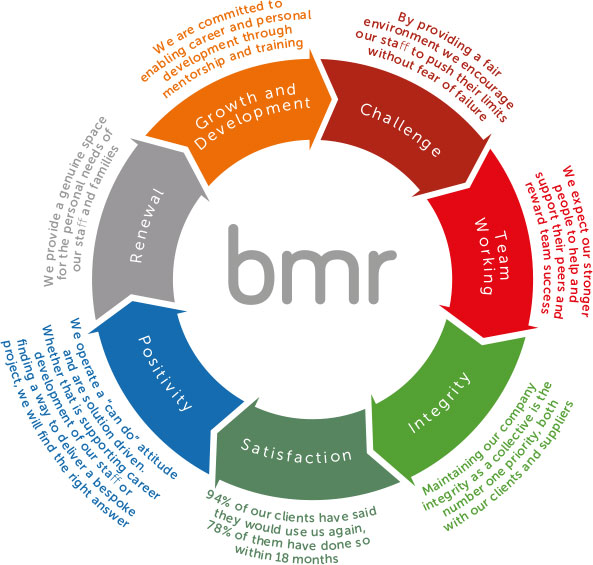 Why ethical business practice matters in construction
Did you know working on a building site has become the deadliest profession in the uk, but the dangers have nothing to do with cranes or ladders.
More than 1400 construction workers took their own lives between 2011 and 2015 according to national statistics. In 2016 that figure was put at 450. The rate is more than three times the national average for men. The construction workers most liable to suffer from anxiety, stress and depression are not senior managers and owners but labourers, plasterers and crane operators, this same group also tops this list of
Our company name "BMR" stands for "Build Maintain Renew"
The colours in our logo demonstrate the coming together of different talents and abilities, all crucial for success as one.
Whilst the name is obvious construction terminology, it has primarily been chosen by the owner and MD of the business to set out our company ethos based on his Christian Faith. We have a desire for BMR be a place where our workforce and sub contractors know they are valued and supported, where they find encouragement to progress and where our clients experience genuine integrity.
What are our tangible commitments?
Supply chain health: We do not operate a "pay when paid" policy. We commit to paying all of our sub contractors within 28 days, we actually target cleared payment within 14 days and achieve this with 85% of our suppliers.
Stand Against Modern Slavery
The construction industry is an attractive place for groups or individuals to place their victims within. All personnel employed by BMR either as management or tradesmen will be verified through HMRC and paid directly. It is the unskilled and semi-skilled labouring trades that are most at risk of modern slavery, we commit to paying these workers no less than £11.61 per hour which is 10% above the London living wage. We also require our sub contractors to commit and demonstrate they pay a minimum rate of the London Living Wage.
Rest, Family Life and Mental Health
As a fixed rule we do not trade on a Sunday, or bank holiday, on occasion our workforce will work on a Saturday but their weekly hours will not exceed 45. We also support our employee's through health care packages, mental health awareness training and free mental health care. We encourage openness about mental health issues and clearly signpost where they can confidentially access help.
Environmental Sustainability
We recognise that construction has a serious potential to negatively impact the environment through bad management of waste and the use of cheap unsustainable materials.
In 2016 we became an ISO14001 accredited company. This accreditation is granted by an independent auditor and confirms as a business we have demonstrated that we have a systematic management framework in place to manage the immediate and long-term impact of our products and services beyond legal requirements. It also commits us achieving measurable continual improvement through a set of annual targets and results.
We are independently audited on an annual basis and must provide clear evidence of complying with our environmental policies and systems.