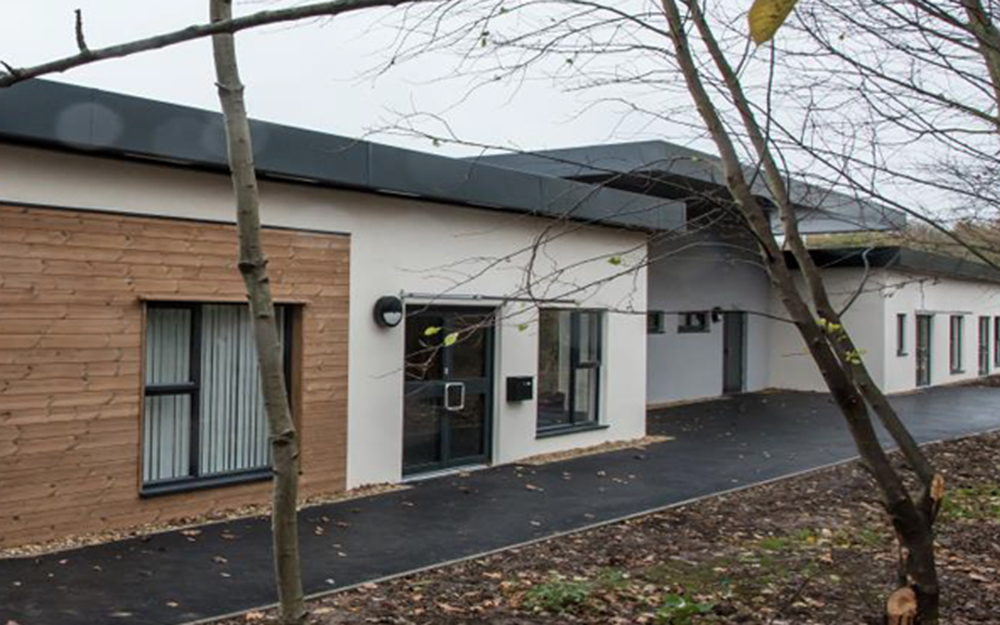 Note: Select another image below to display full size above.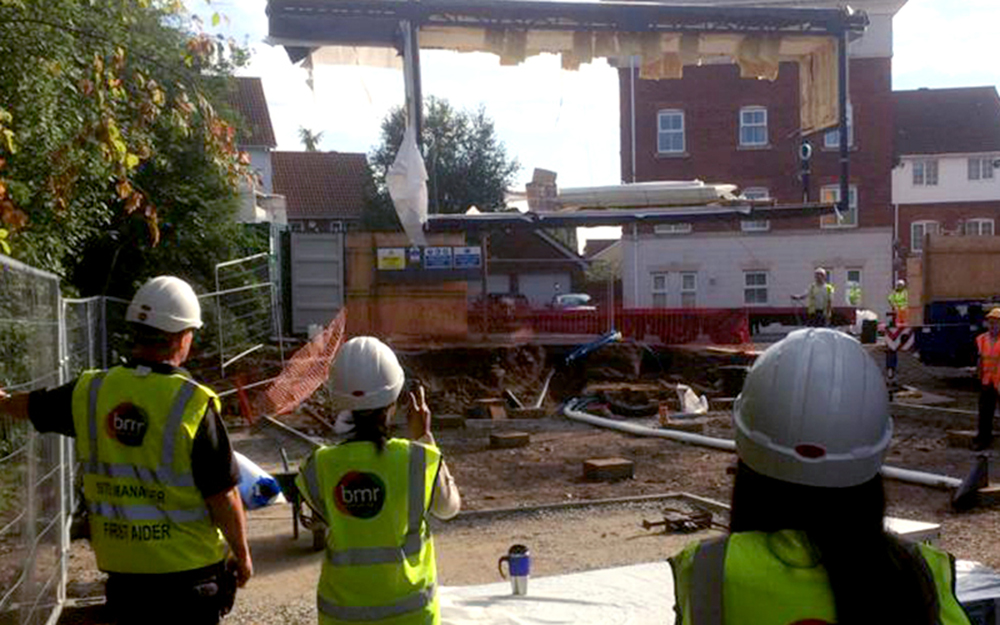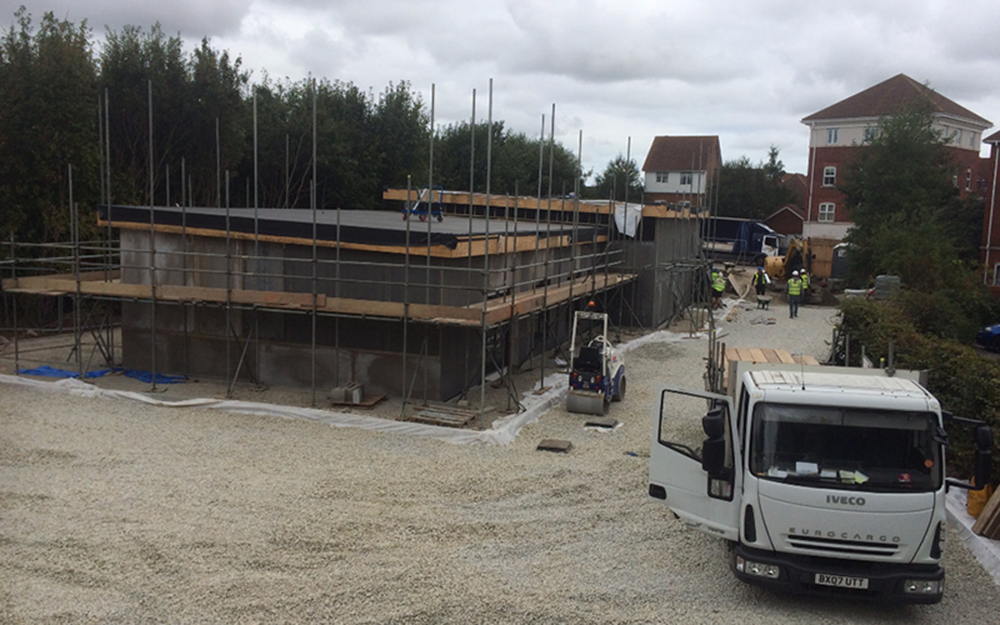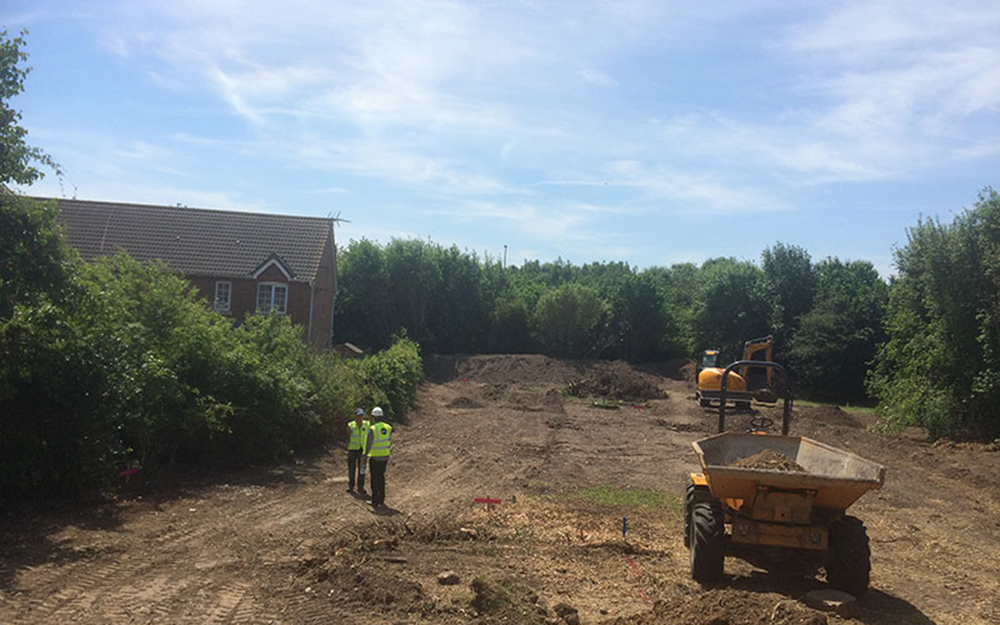 The Meads Community Centre
New Build Community Hall
Client:
Swale Borough Council
Following a successful tender bid we were contracted by Swale Council to undertake the complete design and build of the Meads Community Centre on a green field site in Sittingbourne Kent.

Outline Scope
The Community Centre was a single storey 305 m2 building comprising a nursery, main hall, offices, toilets, reception cafe and kitchen. Externally the building was clad in insulated render, cedar timber and PPC aluminium fascias. The roof was a mono pitch single ply membrane finish.
The project also included footpaths, new car park area for 12 cars, gabion walling, and soft landscaping works.

Delivery of the Works
Prior to construction our design team worked with the client to develop the planning designs into approved construction drawings. This process included consultation with the local trustees of the new community centre, presenting material and finishes choices and re working the building layout.
Following this and the discharge of pre start planning conditions we took possession of the site. We used our own direct labour to clear the site, set out and under take all ground works, drainage and foundations ready to receive the modular superstructure.
The superstructure was then delivered in 12 modules and placed onto the foundations over a three day lift. On completion of the lift scaffold was erected and the external and internal finishing was carried out taking a total of 8 weeks.
The externals were prioritised to facilitate an early scaffold strike which allowed the external hard landscaping to complete at the same time as the internals. The hard landscaping, kerbing and gravel filled "Bod Pave" works were carried out by our own direct labour.

Challenges
1) Budget – The client had a very tight budget and on award of contract we worked with them to reduce the building cost without sacrificing quality. We identified that the biggest cost saving would be to reduce actual time on site. From experience we knew that using modular construction could be the answer. At that stage we approached a number of modular suppliers to advise on cost and manufacture timescale. We were then in a position to offer time savings to the client of approximately £30k and also a reduction in foundation costs which brought the project within the client's desired budget.
This method of construction has proven so successful for us as a company that we have since used it on 2 other projects
Centenary Park Nursery School
Wise Works Adult Care – Temporary Classroom accommodation
2) Public Protection – The proximity to local housing, shops and restaurant. The site was located deep within a large housing development directly adjacent to a busy pub with our only site entrance directly onto a residential Cul De Sac.
Before commencement there were major concerns raised by local residents concerning the impact the construction work would have on local parking and an already busy estate. Throughout the works we maintained good relations with all residents and quickly dealt with any resident concerns. Specifically we controlled the risks to the public by:
Employing strict delivery times outside of school runs.
Using qualified banks men to supervise any traffic movement through the park
Erecting suitable hoarding to prevent child access to the site
Good use of pedestrian and vehicle signage
Constructed a turning circle within the site for site traffic
Managed contractor parking so not to disrupt or use resident parking
Issued introductory letters to all residents with our resident liaison contact number and complaints procedures


Conclusion
This has been in our view and our clients view a very successful project, delivered ahead of time and within a reduced budget. Since the completion of this project we have been appointed Principle Contractor on another community centre in Great Easthall for the same client SWALE council.

Client Comments
BMR recently completed the Meads community hall project for us to a very reduced programme and a high standard. They worked with us to value engineer to a challenging budget and delivered a very good specification building on time and within budget. They were proactive in managing the site and there was a good team approach throughout the project. They were quick to react to problems and they were very positive in all of their dealings with the clients and members of the public showing that they were committed to the project from the award of the contract through to handover. At practical completion the level of snagging was minimal and defects were resolved very quickly with the health and safety file being provided at handover. Overall they were an excellent contractor to work with and they produced a very good quality building.
Peter Binnie Project Manager Swale Council
Back to Projects